Different installation techniques for precision brass components
---
---
Inserts are usually attached with plastic parts to fix or remove them plenty of times. This is the reason inserts are made up of brass material that has long shelf life, and secured fastening base. You may also get then in aluminum, stainless steel metals but they are not as reliable as brass metal. Brass metal is also corrosion resistant that can be installed with extreme weather conditions without any damage.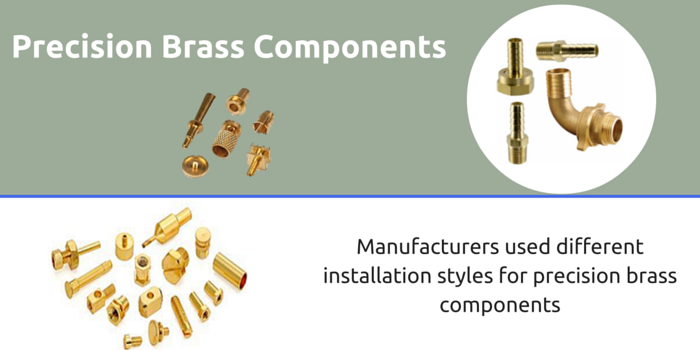 Inserts are largely popular to reinforce two types of plastics. These are Thermoplastic or Thermoset Plastics. Thermo plastic has properties similar to wax and it melt down quickly when heated. At the same time, thermoset plastics have cross linked structure and they are usually considered more durable than thermo plastics. These cross linked plastics respond better for post molding or insertion.

Manufacturers used different installation styles for precision brass components and some of the popular techniques are discussed below here -


Insert molding – This installation technique is common with thermoset plastics where extra time is needed to load the inserts. Manufacturers should have right skills set and experience to complete this task conveniently.
Past molded – With this technique, inserts can be quickly fixed with plastic parts in less time and efforts. Faster assembly is major benefit of past molded installation technique.
Ultrasonic technique – This is the most common installation technique that is used almost everywhere where ultrasonic radiations are used to complete the job. With this technique, users can perform faster and more accurately.
Thermal installation – Here thermal forced is applied to put brass inserts inside drilled hole. With the process, multiple inserts can be fixed together with ease and minimum noise is produced during the process. In few cases, this is considered better than ultrasonic technique.
Precisoin brass components manufacturers India

Precision brass turned components are used in many industrial mechanical areas because of it's quality standards. Indian manufacturers are made with precision brass components with good finishing, durability, long service life and low maintenance. Indian manufacturers offers variety of precision brass components in different size and shapes with a custom solution.

These Precision brass components are used in many industrial areas such as precision engineering, mechanical engineering, optical engineering and electrical engineering. To know more on high quality precision brass components and to get custom solutions for the same, you should contact right manufacturers or suppliers right away.

Read More :
Ultimate Guide on Brass turned components