Brass Molding Parts & Inserts for Plastic Components
---
---
Brass inserts are used where a powerful metal thread is required in plastic material such as on computer systems, automotive and electronics. These brass inserts give long tread life and tight fastening joints. The brass threaded inserts mainly designed to improve the effectiveness of the devices by circulating causes of the attach over a larger number of brass threaded inserts and increasing the load ability. Manufacturers have used different types of brass threaded inserts installation technique for different plastic such as self-tapping, molded-in, press-in, ultrasonic and thermal.


Intention of Brass Insert Molding for Plastic Components
The insert molding process is used for low to high quantity manufacturing operates. Manufacturers of brass insert moldings are uses latest injection molding technology to merge polycarbonate and metal elements into different finished parts. Today, the computerized machines place various metal inserts into specially designed molds. These shapes are enclosed with polycarbonate to make a custom product. Nowadays this brass inserts molding is used to produce products for a large range of application such as Pharmaceutical, Electronic, Medical, Defence, Aerospace and Consumer industries, etc.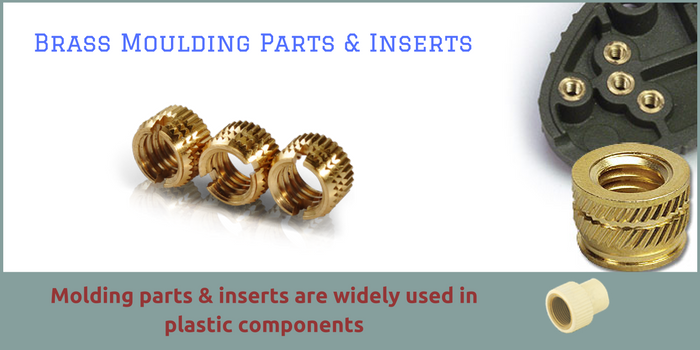 Brass molding parts & inserts cab be produced in small or big batches as per industry needs or requirements. The inserts can be fixed inside mold automatically or it can be done by your hand as well. The time when plastic is injected inside mold, it starts filling around the inserts. In this way, it results into creation of brad component quickly that is ready to use immediately.

The insert molds make these components tightly secure inside plastic resin and it also strengthen performance of parts or components. Another major benefit of the product is vibration resistant and shock proof. Once process has been automated then metal parts can be fixed into design molds and wrapped with inserts to create some customized product.

The discussion makes clear that there is no requirement of external vendor here that saves time and costs both. In case you wanted to outsource your project then this is your responsibility to choose the right manufacturers or suppliers to complete your job. You have to make sure that you are dealing with authorized partners who sell certified products only.

The various advantages and long lasting nature of brass molds make perfect for plastic components. To know more on brass inserts or molds, you should contact expert team right away.

Read More :
Select the right brass inserts for Industrial application